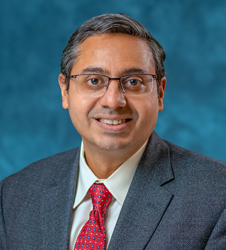 MD, MS, ABIM Sleep Medicine
Tajender S. Vasu, MD, MS specializes in Sleep Medicine and is Board Certified in Sleep and Pulmonary medicine. He specializes in managing a variety of sleep disorders including sleep apnea, narcolepsy, restless legs syndrome, insomnia, excessive daytime sleepiness, circadian rhythm sleep-wake disorders and parasomnias.
Dr. Vasu became interested in Sleep Medicine during his training at Thomas Jefferson University in Philadelphia. He was amazed to find how treating sleep disorders not only improved the quality of life but also long-term outcomes for patients. His interest in conducting clinical research to improve patient care led him to earn a Master of Science (MS) Degree in Clinical Pharmacology at Thomas Jefferson University in 2011.
During his career, Dr. Vasu has done extensive research in the field of Sleep Medicine and has published several articles in medical journals. His research interests include how untreated sleep apnea increases the risk of peri-operative complications. He is interested in learning and understanding the association between untreated sleep apnea and cardiovascular outcomes and how artificial intelligence and machine learning can improve patient outcomes.

After completing his training at Thomas Jefferson University, Dr. Vasu worked as an Assistant Professor of Medicine at SUNY Stony Brook University. He moved to Northern Virginia area in 2012. He has extensive experience taking care of patients with a variety of sleep disorders. He firmly believes that it is important to provide excellent quality of care to his patient and their families.
Dr. Vasu enjoys reading, walking, learning Hindustani Classical Music/Bansuri (Indian bamboo flute) and spending time with his wife and daughter.
Credentials
Medical School
University of Delhi
Residency
SUNY Upstate Medical University I Internal Medicine
Fellowship
Thomas Jefferson University Hospital I Pulmonary and Critical Care Medicine
Thomas Jefferson University Hospital I Sleep Medicine
Graduate Degree
Jefferson Medical College I Master of Science, Pharmacology
Board Certifications
Internal Medicine
Pulmonary Medicine
Sleep Medicine
Critical Care Medicine
Professional Memberships
Member, American College of Chest Physicians (ACCP)
Member, American Academy of Sleep Medicine (AASM)
"Working with a smile and with an excellent team makes everything more enjoyable and easier to do."
-Dr. Tajender S. Vasu
Locations
Arlington Office
1005 N. Glebe Road
Suite 750
Arlington, VA 22201
P: 703-621-4501
F: 703-516-4501
Fairfax Office
2901 Telestar Court
Suite 200
Falls Church, VA 22042
P: 703-621-4501
F: 703-573-5353