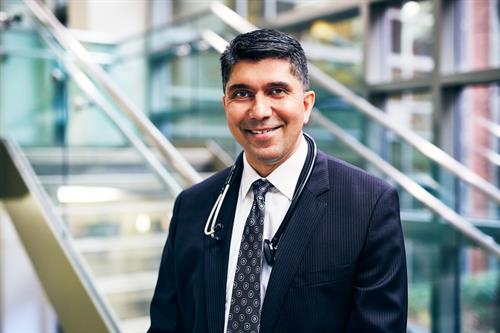 Welcome. I'm Dr. Ketan Trivedi, President and Chief Medical Officer of Virginia Heart. For more than 40 years, Virginia Heart has been a nationally recognized provider of premier cardiovascular care to our community in Northern Virginia.
More than 130,000 patients each year place their trust in our 51 board certified cardiologists, 3 board certified sleep specialists and 25 advanced practice providers. We've always believed what distinguishes Virginia Heart is our team-led, holistic approach to individualized, compassionate patient care. We embrace shared values that promote teamwork and collaboration placing the patient – and patient experience - at the center of all we do.
We hope you'll find everything you need here to learn more about Virginia Heart and our mission to improve the health and well-being of our communities.
During the past 40 years, Virginia Heart has grown into the region's premier cardiovascular group. Our 54 physicians diagnose and treat the full spectrum of disorders affecting the body's heart and vascular systems.
What sets Virginia Heart apart from other cardiovascular practices? Our physicians and staff have extraordinary credentials with an unrivaled depth and breadth of expertise and experience. Consider the following:
Cardiovascular Specialists - Our depth of specialists and sub-specialists is unmatched in the Northern Virginia area. We have a full complement of general cardiologists, interventional cardiologists, electrophysiologists, cardiologists with interests in peripheral vascular disease, congenital heart conditions, women's heart issues and sleep disorders, as these frequently impact heart function as well.
Sleep Specialists- The Virginia Heart Sleep Center is comprised of 4 board certified sleep physicians. They are dedicated to providing long term care for their patients while working cohesively as a team with other recognized leaders in different specialties of medicine.
Experience - Research shows that physicians who have extensive experience often have better patient outcomes. Last year alone our physicians treated more than 9,000 new patients -- more than any other practice in the area. We also performed close to 1,000 device implant and ablation procedures and over 3,000 catheterizations and balloon/stent procedures. We see more. We do more, making us highly experienced with a variety of heart problems.
Research - Virginia Heart's Research Center is committed to leading and participating in a variety of clinical trials and

offering

our patients the ability to participate in cutting edge research.
Team Approach - Our physicians work with both the patient and his referring physician to tackle each patient's unique cardiac needs. Our physicians also collaborate with one another and our advanced practice providers (nurse practitioners and physician assistants) to optimize your care and experience.
Leadership - Our physicians hold leadership positions in many professional societies and in all of the hospitals in which we see patients. As a result, we have been able to shape the care that our patients receive in-hospital, so that they receive the best when they need it most.
Board Certification - Our physicians have specialized training in cardiology/cardiovascular disease. Many are additionally board certified in specialty areas, including electrophysiology, echocardiography and nuclear cardiology, which involves more education and training enabling us to treat even the most complicated conditions.
Convenience & Accessibility- We have 9 locations throughout Northern Virginia and are on staff at the following hospitals:

Inova Alexandria Hospital
Inova Fair Oaks Hospital
Inova Fairfax Hospital
Inova Loudoun Hospital

Reston Hospital Center
StoneSprings Medical Center