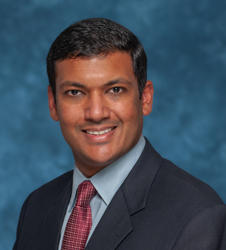 MD, FACC, FSCAI
General Cardiology
Interventional Cardiology
Vascular Disease
Rajat Garg, MD, specializes in general and interventional cardiology as well as peripheral vascular disease. He is board certified in cardiovascular disease and interventional cardiology. "I was drawn to interventional cardiology because we can now make someone feel better almost instantly," he said. "When a patient comes in the throes of a massive heart attack, we can stabilize them and alleviate their pain within minutes. You could call it 'instant gratification'."
Dr. Garg earned his medical degree from the Medical College of Virginia at Virginia Commonwealth University, where he also completed his residency and fellowships in cardiovascular disease and interventional cardiology.
In his free time, Dr. Garg is an avid D.C. sports fan and enjoys playing golf, tennis and basketball. He also coaches his sons in youth basketball and little league baseball.
Credentials
Medical School
Virginia Commonwealth University | Medical College of Virginia
Residency
Medical College of Virginia | Internal Medicine
Fellowship
Medical College of Virginia | Cardiovascular Disease
Medical College of Virginia | Interventional Cardiology
Board Certifications
Cardiovascular Disease
Interventional Cardiology
Specialty Areas of Interest
General Cardiology
Interventional Cardiology
Peripheral Vascular Disease
Professional Associations
American College of Cardiology | Fellow
Society for Cardiovascular Angiography and Interventions | Fellow
Leadership Positions
Cardiology Operations Committee and Critical Care Committee | Inova Loudoun Hospital
Member, PCI Committee | Inova Loudoun Hospital
Other Languages Spoken
Hospital Affiliations
Inova Loudoun Hospital
Inova Fairfax Hospital
Reston Hospital Center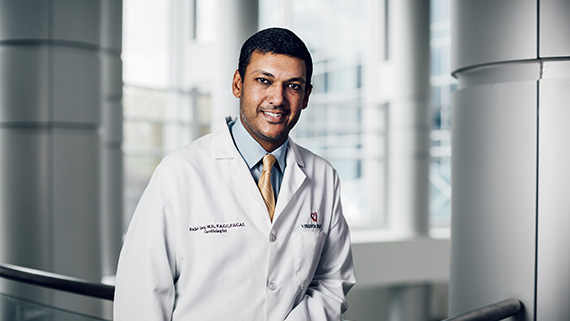 "I lay out for each of my patients what needs to happen moving forward, so that we both have goals and expectations clearly defined."
- Dr. Rajat Garg
Patrick McClure knew he was tired and not feeling well. What he didn't know was that his heart was functioning at a fraction of its normal capacity. After consulting with his Virginia Heart specialist, Patrick opted for surgery that has changed his life—and left him feeling better than he ever has before.