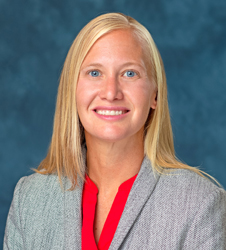 MD, FCCP, ABIM Sleep Medicine
Sleep Medicine
Women's Sleep Disorders
Jessica A. Riggs, MD., is a Sleep Medicine, Pulmonary, and Critical Care boarded physician, who recently has joined the Virginia Heart Sleep Program after completing an additional fellowship in Sleep Medicine. She has a special interest in the management of sleep-disordered breathing, conditions of hypersomnolence, and the physiologic changes of sleep in women during pregnancy and with aging.
Most recently, Dr. Riggs spent several months on the front-line fighting COVID-19 in New York City intensive care units, a fight she feels fortunate she could help temper.
Dr. Riggs became interested in Sleep Medicine during her years in the ICU with the understanding that complex medical disorders were so delicately linked to sleep health and hygiene, and the ability to restore sleep health would have major effects on outcomes. Today, as a Sleep specialist, her goal is to help her patients achieve their greatest physical potential, both day and night.
Dr. Riggs enjoys spending time playing soccer, running, and enjoying outdoor concerts with her family, yellow labrador, and friends.
Credentials
Medical School
Residency
Rutgers University | Internal Medicine
Fellowship
New York University School of Medicine | Sleep Medicine, Pulmonary, and Critical Care
Board Certifications
Pulmonary Disease
Critical Care
Sleep Medicine (pending)
Internal Medicine
Specialty Areas of Interest
Sleep Medicine
Sleep-disordered breathing
Women's Pulmonary and Sleep Disorders
Professional Associations
American Academy of Sleep Medicine
American College of Chest Physicians
Locations
Lansdowne Office
19450 Deerfield Avenue
Suite 100
Leesburg, VA 20176
P: 703-621-4501
F: 703-729-2689
Fairfax Office
2901 Telestar Court
Suite 200
Falls Church, VA 22042
P: 703-621-4501
F: 703-573-5353