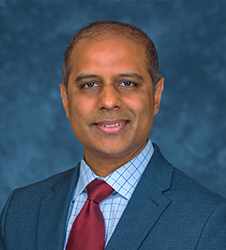 MD, FACC, FHRS
Chirag Sandesara, MD is an Electrophysiologist board certified in Clinical Cardiac Electrophysiology and Cardiovascular Medicine. He joins Virginia Heart with over 10 years of clinical experience. He manages complex heart rhythm disorders through medical therapy, device implantation, and ablation. He became interested in cardiac electrophysiology for the opportunity to not only treat heart rhythm disorders, but also, in some cases, provide an actual cure. His primary goal is to improve the quality of life for his patients and to ultimately prolong their lives as well.
Dr. Sandesara earned his medical degree from Ross University School of Medicine. He pursued residency in Internal Medicine at the Medical College of Wisconsin where he was also a Chief Resident. He completed both Cardiovascular Medicine and Clinic Cardiac Electrophysiology fellowships at the University of Iowa.
A native of Chicago, Illinois, Dr. Sandesara currently resides in Vienna, VA with his wife, a Pediatric Endocrinologist, and their two young children. In his spare time he enjoys cooking, staying fit, and has a special interest in road biking.
Credentials
Medical School
Ross University School of Medicine
Residency
Medical College of Wisconsin | Internal Medicine
Medical College of Wisconsin | Chief Resident
Fellowship
University of Iowa | Cardiovascular Medicine
University of Iowa | Clinical Cardiac Electrophysiology
Specialty Areas of Interest
Cardiac Electrophysiology
Complex Arrhythmias
Atrial Fibrillation Ablation
Ventricular Tachycardia
Radiofrequency Ablation
Heart Rhythm Disorders
Leadership Position

Director, Electrophysiology Quality Improvement Committee | Inova Health System



Other Languages Spoken

Spanish

Gujarati

Hindi

Hospital Affiliations

Inova Fairfax Hospital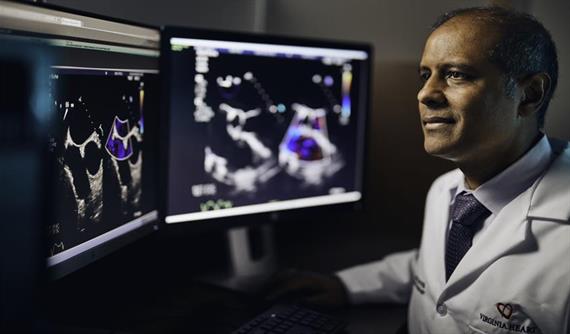 "Healthcare can be challenging and complex to navigate for patients. My goal is to have a conversation with my patient where we simplify the information through education, engage in shared decision making, and create a plan that best suits their personal needs regarding their heart rhythm condition."
- Chirag Sandesara, MD
Locations
Lansdowne Office
19450 Deerfield Avenue
Suite 100
Leesburg, VA 20176
P: 571-350-3668
F: 703-729-2689
Fair Oaks Office
3580 Joseph Siewick Drive
Suite 305
Fairfax, VA 22033
P: 703-648-3266
F: 703-648-3264