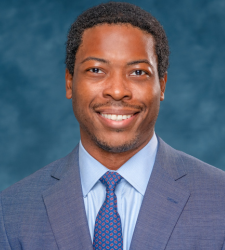 MD
Echocardiography
General Cardiology
Nuclear Cardiology
Chinedu Madu, MD specializes in non-invasive cardiology, and is board certified in cardiovascular disease, echocardiography, nuclear cardiology, cardiac MRI and internal medicine. He has a special interest in preventive cardiology strategies such as exercise and nutrition counseling, as well as the management of complex lipid disorders and premature coronary artery disease.
Before coming to Virginia Heart, Dr. Madu did an additional year of fellowship in advanced cardiac imaging, where he became proficient in interpreting and administering cardiac CT and cardiac MRI exams.
Dr. Madu became interested in cardiology in medical school when he learned about how widespread the prevalence of heart disease is in the community. As a cardiologist, his goal is to connect with his patients and help them to manage their heart disease in a way that lets them live their best life.
Dr. Madu enjoys going on adventures and exploring Washington DC with his wife and two kids. He is a big fan of the New York Knicks, Yankees, Giants and Arsenal FC.
Credentials
Medical School:
University of Virginia Medical School
Residency:
Hofstra-Northwell School of Medicine | Internal Medicine
Fellowship:
University of South Florida Morsani College of Medicine | Cardiovascular Disease
University of South Florida Morsani College of Medicine | Advanced Cardiac Imaging
Board Certifications:
Cardiovascular Disease
Cardiac MRI
Internal Medicine
Echocardiography
Nuclear Cardiology
Hospital Affiliations:
Inova Alexandria Hospital
Virginia Hospital Center
"Maintaining your heart health is a life-long journey. I'm proud to be able to help in whatever way that I can."
- Dr. Chinedu Madu
Locations
Alexandria Office
4825 Mark Center Drive
Suite 150
Alexandria, VA 22311
P: 703-621-4501
F: 703-751-1105
Arlington Office
1005 N. Glebe Road
Suite 750
Arlington, VA 22201
P: 703-621-4501
F: 703-516-4501