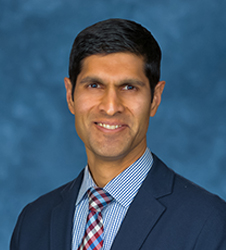 MD, FCCP, ABIM Sleep Medicine
Amit V. Patel specializes in sleep medicine and is board certified in sleep, pulmonary and critical care medicine. He has a special interest in the management of sleep disorders of all types, including sleep apnea, complex sleep disordered breathing, narcolepsy, generalized sleepiness, insomnia and parasomnias. He is the medical director of the Virginia Heart Sleep Medicine program.

Dr. Patel became interested in sleep medicine during his pulmonary and critical care fellowship, where he was able to also spend time caring for patients with sleep disorders and researched and published medical journal articles related to sleep medicine. He practiced pulmonary critical care and sleep medicine on faculty at the Weill Cornell Medical College in New York before moving to Northern Virginia in 2011. He joined Virginia Heart in 2018.
He brings his experience and insight from years of multi-specialty practice to his passion for sleep medicine. He now devotes his time to working with patients to enhance their overall quality of life through improved sleep.
Dr. Patel enjoys reading, cycling, playing basketball, camping and cooking with his wife and two children.

"Being able to focus on improving a patient's quality of life by improving their quality of sleep is a task I do not take lightly and feel privileged to share in."
Credentials
Medical School
Residency
Georgetown University | Internal Medicine
Fellowship
New York University School of Medicine | Sleep Medicine, Pulmonary, and Critical Care
Board Certifications
Sleep Medicine
Pulmonary Disease
Critical Care
Specialty Areas of Interest
Sleep Medicine
Sleep Apnea/Complex Sleep Disordered Breathing
Narcolepsy/Hypersomnolence
Sleep Walking and other Parasonias
Insomnia
Teaching Positions
Past Assistant Professor of Medicine | Weill-Cornell Medical School
Past Clinical Assistant Professor of Medicine | Georgetown University School of Medicine
Leadership Positions
Medical Director, Virginia Heart Sleep Center
Teaching Positions
Assistant Professor, UVA School of Medicine
"I feel that our overall health and quality of life are intricately tied to the quality of our sleep."
- Dr. Amit V. Patel
Locations
Lansdowne Office
19450 Deerfield Avenue
Suite 100
Leesburg, VA 20176
P: 571-350-3668
F: 703-729-2689
Arlington Office
1005 N. Glebe Road
Suite 750
Arlington, VA 22201
P: 703-524-7202
F: 703-516-4501
Fairfax Office
2901 Telestar Court
Suite 200
Falls Church, VA 22042
P: 703-573-3494
F: 703-573-5353