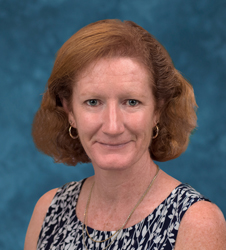 Annette M. Vernail
Annette Vernail, MSN, CFNP, has a BSN and MSN and is a board certified Family Nurse Practitioner. She works as a nurse practitioner on the weekends at INOVA Fairfax Hospital and INOVA Loudoun Hospital. She also works full time with the Structural Heart Department at INOVA Fairfax Hospital.
Annette became interested in Cardiology after working for Cardiac Surgery for 14 years prior to joining Virginia Heart. Today, her goal is to help her patients live heart healthy lives, educate on warning signs of potential heart issues and provide personalized care to her patients. She enjoys the continuity of care for the catheter based cardiac surgical patient and the cardiology management of that patient.
Annette enjoys playing soccer, running, and biking. She has three daughters who are active with soccer and gearing up for college. She cares for her elderly mother at her home. She loves Labrador Retrievers as she has two of them!
"I am committed to the healthy heart lifestyle of my patients. I love being a liaison for my patients, providing coordination of care and education pertaining to their disease process, ultimately reducing their overall anxiety."
Credentials
Education
Master of Science, Nursing | George Mason University
Bachelor of Science, Nursing | George Mason University
Certifications
Board Certified, Family Nurse Practitioner
Advanced Cardiac Life Support (ACLS) Certified
Affiliations & Awards
Professional Associations
Virginia Council of Nurse Practitioners
Hospital Affiliations
Inova Alexandria Hospital
Inova Fair Oaks Hospital
Inova Fairfax Hospital
Inova Loudoun Hospital