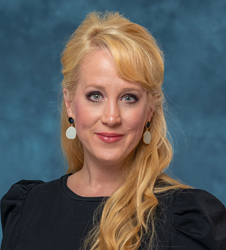 Stephanie Cook
Stephanie Cook, AGPCNP, has a master's degree as a Primary Care Adult Nurse Practitioner and is board certified by the American Association of Nurse Practitioners. She works as a nurse practitioner in the Alexandria and Fairfax offices.
Stephanie became interested in Cardiology when she was thirteen years old, after dissecting a pig's heart during summer camp. Heart disease is prevalent in her family. She has seen firsthand how cardiac disorders can affect self-care and outcomes. Today, her goal is to provide autonomy supportive communication and empower her patients to live heart healthy. Stephanie also has a background in theatre and voice and is often found using her theatrical background to make heart education entertaining for all ages.
Stephanie enjoys live theatrical productions, traveling, cooking and time with her husband, children, and zany border collie.
Credentials
Education
Master of Science in Nursing | Walden University
Bachelor of Science in Nursing | Appalachian State University
Bachelor of Arts in Theatre with a voice minor | Shenandoah University
Certifications
Adult Gerontology Primary Care Nurse Practitioner, AANP, Certified
Advanced Cardiac Life Support (ACLS), Certified
Affiliations & Awards
Professional Association
American Associate of Nurse Practitioners
American Nurses Association
Locations
Alexandria Office
4825 Mark Center Drive
Suite 150
Alexandria, VA 22311
P: 703-621-4501
F: 703-751-1105
Fairfax Office
2901 Telestar Court
Suite 200
Falls Church, VA 22042
P: 703-621-4501
F: 703-573-5353