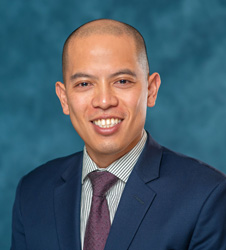 Neil Bautista
Neil Bautista, FNP-C has a Master of Science in Nursing from Georgetown University and is a board-certified Family Nurse Practitioner. He works as a Nurse Practitioner in the Fairfax office.
Neil became interested in Cardiology during his time as a RN working in open heart surgery units and as an Army Medic. Today, his goal is to help his patients manage a healthy lifestyle.
Neil enjoys hiking and kickboxing on his free time. He is also an avid travel with a goal of visiting all 7 continents.
Credentials
Education:
Master of Science, Nursing |Georgetown University
Bachelor of Science, Nursing |University of North Carolina at Wilmington
Associates of Science, Nursing |Santa Barbara City College
Certifications:
Board Certified, Family Nurse Practitioner
Advanced Cardiac Life Support (ACLS) Certified
Affiliations & Awards
Hospital Affiliations:
Inova Fairfax Hospital
Inova Fair Oaks Hospital
Locations
Fair Oaks Office
3580 Joseph Siewick Drive
Suite 305
Fairfax, VA 22033
P: 703-621-4501
F: 703-648-3264
Fairfax Office
2901 Telestar Court
Suite 200
Falls Church, VA 22042
P: 703-621-4501
F: 703-573-5353