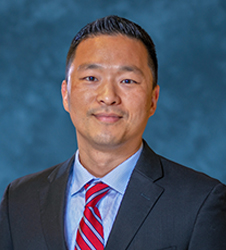 Ki Kim
Ki Kim, MSN, FNP-BC is a board certified nurse practitioner in Virginia Heart's Vienna and Fairfax offices.
He earned a Master of Science degree in nursing from George Mason University in Fairfax, VA and became interested in cardiology and medicine while working as a nurse in the intensive care unit and as an Army medic. His goal is to help his patients live a heart healthy life.
In his free time, Ki enjoys spending time with his wife and two children. He recently completed the Marine Corps Marathon and has set an ultimate goal of finishing a full Ironman race in his lifetime.
"I believe one of the keys to being a great medical provider is empathy. It is something I focus on as I provide care to all of my patients."
Credentials
Education
Master of Science, Nursing / George Mason University
Bachelor of Science, Information Systems / University of Maryland Baltimore County
Certifications
Board Certified Family Nurse Practitioner
Advanced Cardiac Life Support Certified
Affiliations & Awards
Professional Association
American College of Cardiology
American Association of Critical-Care Nurses