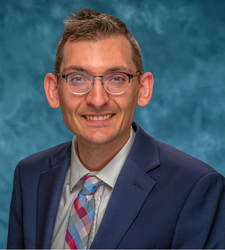 Drew Venuto
Drew Venuto, PA-C has a Master of Science degree in Physician Assistant Studies from Shenandoah University and is a board certified physician assistant. He works as a physician assistant in the Fairfax and Fair Oaks offices, as well as Inova Fairfax, Inova Fair Oaks, Inova Loudoun, and Reston Hospital Center.
Drew became interested in cardiology because of how intertwined it is with our day to day lives. As someone who loves to cook and try new food, he strives to understand how the foods we eat and the activity we engage in defines our cardiovascular health. Today, his goal is to meet his patients where they are on their journey in life, and to better define their heart health in a way to maximize their quality of life.
Drew enjoys traveling, cooking, and gardening with his wife and children. His favorite sports teams include DC United, the Washington Capitals, and Leicester City Football Club.
Credentials
Education
Master of Science, Physician Assistant Studies | Shenandoah University
Bachelor of Science, Chemistry | George Mason University
Certifications
Board Certified, Physician Assistant
Advanced Cardiac Life Support (ACLS) Certified
Affiliations & Awards
Professional Association
American Academy of Physician Assistants
Virginia Academy of Physician Assistants
Publications
Testa LC, Jule Y, Lundh L, Bertotti K, Merideth MA, O'Brien KJ, Nathan SD, Venuto DC, El-Chemaly S, Malicdan MCV, Gochuico BR. Automated digital quantification of pulmonary fibrosis in human histopathology specimens. Front Med. 2021; 8; 607720. doi: 10.3389/ fmed.2021.607720
King CS, Freiheit E, Brown AW, Shlobin OS, Aryal S, Ahmad K, Khangoora V, Flaherty KR, Venuto D, Nathan SD. Association between anticoagulation and survival in interstitial lung disease: An analysis of the Pulmonary Fibrosis Foundation Patient Registry. CHEST. 2020 Oct 16; 159(4): 1507-1516.
Moore C, Blumhagen RZ, Yang IV, et al. Resequencing study confirms that host defense and cell senescence gene variants contribute to the risk of idiopathic pulmonary fibrosis. Am J Respir Crit Care Med. 2019; 200(2): 199-208. doi:10.1164/rccm.201810-1891OC
Locations
Fair Oaks Office
3580 Joseph Siewick Drive
Suite 305
Fairfax, VA 22033
P: 703-621-4501
F: 703-648-3264
Fairfax Office
2901 Telestar Court
Suite 200
Falls Church, VA 22042
P: 703-621-4501
F: 703-573-5353