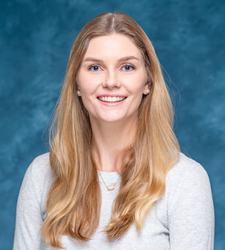 Alexandra Young
Alexandra Young, MSN, FNP-C has a Master of Science in Nursing from the University of Cincinnati and is a board-certified Family Nurse Practitioner. She works as a nurse practitioner in Virginia Heart's Arlington and Alexandria offices.
Her passion for cardiology began as a registered nurse on the cardiac step-down unit. Today, her goal is to prevent and treat heart disease and improve the overall cardiovascular health for her patients.
Alexandra enjoys playing golf, pickleball, soccer, basketball, snowboarding, hiking, and traveling with her friends and family.
Credentials
Education
Master of Science, Nursing | University of Cincinnati
Bachelor of Science, Nursing | James Madison University
Certifications
Board Certified, Family Nurse Practitioner
Advanced Cardiac Life Support (ACLS) Certified
Basic Life Support (BLS) Certified
Affiliations & Awards
Professional Association
American Academy of Nurse Practitioners
Locations
Alexandria Office
4825 Mark Center Drive
Suite 150
Alexandria, VA 22311
P: 703-621-4501
F: 703-751-1105
Arlington Office
1005 N. Glebe Road
Suite 750
Arlington, VA 22201
P: 703-621-4501
F: 703-516-4501