Virginia Heart Research Center
Over 22
Years of research experience
40%
of our clinical trials have led to FDA approved drugs or improvements in care of our patients
90
clinical trials and counting that we have participated in
1,350
patients and counting enrolled in trials
Virginia Heart's Research program is nationally recognized as a leader in cardiovascular research and is among the top enrollers in the U.S. in countless practice-changing cardiology trials over the past decade. Our national reputation for high quality clinical research allows our patients to participate in cutting-edge research and obtain therapies not otherwise available to them.
Diseases Studied
The Virginia Heart Research Center enrolls in trials that study many different specialties. Heart Failure Atrial Fibrillation High cholesterol Myocardial Infarction (Heart Attack) Coronary Artery Disease Peripheral vascular disease Pacemaker/Defibrillators Arrhythmias
Enrolling Studies
Virginia Heart is continuously enrolling patients in new studies. These are our current studies accepting new patients. To see if you are eligible, speak with your cardiologist or call the Research Center at (703)-766-5920
High Quality Research Center
Our national reputation allows our patients the ability to participate in cutting-edge research and obtain therapies not otherwise available to them. These cutting-edge therapies provided at the clinical trial stage are usually only tested at a limited number of high quality research programs in the country. Our reputation in the research community has allowed our involvement in these highly selective clinical trails to give our patients access to new medications, devices, and therapies that are not available within other cardiology practices.
Contact Us
To find out if you are eligible for a clinical trial or to learn more about the Research Center at Virginia Heart, contact us. Ask your cardiologist or contact our research team at (703)-766-5920.
What is a clinical trial?
A new drug or device goes through many tests in the laboratory, if the results are encouraging and they meet the rigorous standards set by the FDA, research is then initiated with people who suffer from the disease or condition for which treatment was developed. When people take a new drug or device as part of a study, it is called a clinical trial. The results of clinical trials are very important. Clinical trials tell us about the effectiveness and safety of the drugs or devices under investigation and can lead to approval of the drug or device for use.
Why should I participate in a clinical trial?
There are many reasons for participation in a clinical trial.
The treatment being studied may benefit you.
Clinical trials may be the only way for patients to receive the medication or device.
You can help in the development and availability of new cardiac medications and devices.
In addition to your routine cardiac care you will be seen by our research nurses and staff.
How do I get into a clinical trial?
Talk to your Virginia Heart cardiologist about any clinical studies that you might be interested in or you might qualify for. You can also contact Virginia Heart's Research Center at: 703-766-5920
How can I find out more about clinical trials?
Ask your cardiologist or contact our research team at: 703-766-5920. You can also find out more information about any clinical trial on the website, www.clincaltrials.gov.

Virginia Heart Research Center's Current Enrolling Studies:
PARADISE MI (NCT02924727)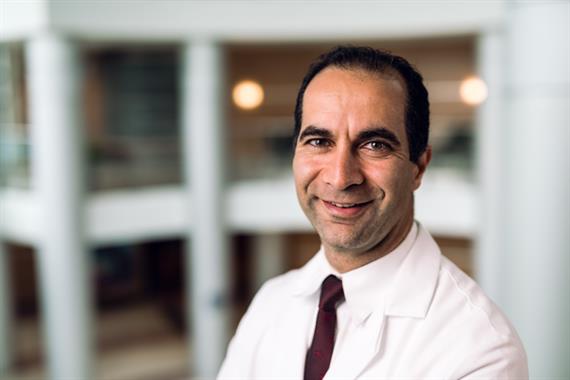 Tariq M. Haddad, MD, FACC
Research Director, Virginia Heart
Principle Investigator (PI) oversight is a crucial predictor of research success. Dr. Tariq Haddad leads Virginia Heart's research division and has created strategies that expedite start-up and improve enrollment among our 45-plus physicians.