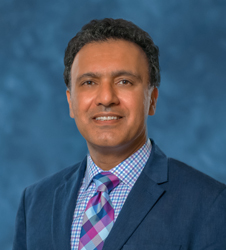 MD, FACC , FSCAI
General Cardiology
Interventional Cardiology
Structural Heart
Nadim A. Geloo specializes in heart valve disease, structural heart disease, chronic total occlusions (CTO), complex coronary interventions, peripheral vascular disease and carotid artery disease. "I strive to remain on the cutting edge of technology within cardiovascular disease," he said. "But the greatest advances in science and technology can seem distant and impersonal in the absence of a good bedside manner. That is why my goal is to create a caring partnership where the patient feels at ease and can fully engage in decisions about their healthcare."
Dr. Geloo earned his medical degree from the Medical College of Virginia in Richmond, VA and completed his internship and residency in internal medicine at the Medical Center of Delaware in Wilmington. He performed fellowships in cardiology and interventional cardiology East Carolina University in Greenville, NC.
In his free time, Dr. Geloo enjoys spending time with his wife and their four children, biking, skiing and traveling together. He is fluent in Urdu, Hindi and Gujarati.
Credentials
Medical School
Medical College of Virginia/ Virginia Commonwealth University
Residency
Medical Center of Delaware | Internal Medicine
Fellowships
East Carolina University | Cardiology
East Carolina University | Interventional Cardiology
Sentara Heart Hospital
Board Certifications
Internal Medicine
Cardiovascular Disease
Interventional Cardiology
Nuclear Medicine
Cardiovascular Computed Tomography
Languages
Specialty Areas of Interest
General Cardiology
Interventional Cardiology

Structural heart interventions
Transaortic Valve Replacement (TAVR)
Mitral Valve Clip
Cardiac Defect Closure (ASD/PFO)
Transseptal Puncture
Radial Artery Access
Echocardiography
Nuclear Cardiology
Coronary CT Angiography
Peripheral Vascular Disease
Professional Associations
American College of Cardiology | Fellow
Society for Cardiovascular Angiography and Interventions | Fellow
Society of Cardiac CT | Fellow
Publications
Dangers of Delay of Initiation of Either Thrombolysis or Primary Angioplasty in Acute Myocardial Infraction with Increasing Use of Primary Angioplasty. Andrew Doorey MD, Sachin Patel MD, Charles Reese MD, Robert O'Connor MD, Nadim Geloo MD, Sara Sutherland MD, Nancy Price RN, Eileen Gleason RN, Roger Rodrigue MD, MPD. American Journal of Cardiology. May 1998; 81(10):1173-1177.

The Safety of Adenosine Pharmacologic Stress Testing in Patients with End-Stage Renal Disease.

Nadim Geloo, MD, Assad Movahed, MD. Abstract Presented at Thirteenth Annual Meeting of the American Society of Hypertension. May 1998.

The Incidence of Second and Third Degree Atrioventricular Block During Adenosine Pharmacologic Stress Testing in Patients with Resting Tachycardia.

Nadim Geloo, MD, Ghassan Alkoutami, MD, Assad Movahed, MD. Abstract Presented at Annual Meeting of American College of Chest Physicians. November 1998.

Use of Low Molecular Weight Heparin During Percutaneous Coronary Intervention.

Nadim A. Geloo, MD and Joseph D. Babb, MD, FACC, FSCAI. Applied Radiology. Volume 31; Number 10; October 2002.
Chapter: Talreja, D and Geloo, N, "Repair of Paravalvular Leaks", In: Catheter Based Valve and Aortic Surgery, Springer Nature, 217-226, 2016.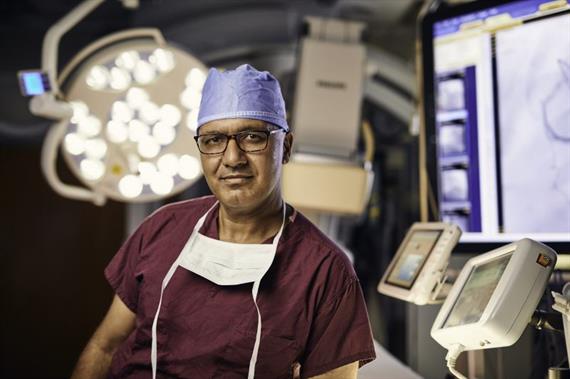 "The greatest advances in science and technology can seem distant and impersonal in the absence of a good bedside manner. That is why my goal is to create a caring partnership where the patient feels at ease and can fully engage in decisions about their healthcare."
- Dr. Nadim A. Geloo