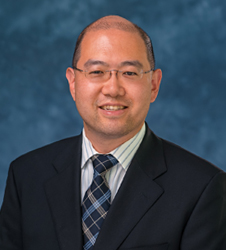 MD, ABPN Neurology and Sleep Medicine
Chi George Zhao, MD specializes in Sleep Medicine and is board certified in Neurology and Sleep Medicine. He has a special interest in the management of sleep apneas, insomnia, narcolepsy, parasomnias, circadian rhythm disorders and sleep related movement disorders.
Dr. Zhao became interested in Sleep Medicine because of the dramatic difference a good night of sleep makes on a person's well being. Today, as a Sleep Medicine Physician, his goal is to help his patients sleep better at night so they can enjoy better quality of life and accomplish more during the day.
Dr. Zhao enjoys photography, traveling with his family and playing sports and games with his kids.
"Good medicine needs cooperation and team effort. I'm here to listen and advise my patients, so together we can live a healthier life."
Credentials
Medical School
University of Maryland School of Maryland
Residency
Montefiore Medical Center | Neurology
Fellowship
Montefiore Medical Center|Sleep Medicine
Board Certifications
Sleep Medicine
Adult Neurology
Specialty Areas of Interest
Sleep Medicine
Sleep Apnea
Insomnia
Narcolepsy
Parasomnias
Professional Associations
American Academy of Sleep Medicine
American Academy of Neurology
Recognitions
Inducted into the Leo M. Davidoff Society of the Albert Einstein College of Medicine of Yeshiva University for outstanding achievement in the teaching of medical students
"Good medicine needs cooperation and team effort. I'm here to listen and advise my patients, so together we can live a healthier life."
- Dr. Chi George Zhao
Locations
Loudoun Office
44035 Riverside Parkway
Suite 400
Leesburg, VA 20176
P: 703-858-5421
F: 703-858-9573
Fairfax Office
2901 Telestar Court
Suite 200
Falls Church, VA 22042
P: 703-573-3494
F: 703-573-5353