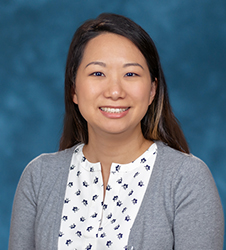 Haena Bryant
Haena Bryant, MSN, FNP-C, is a board certified nurse practitioner in Virginia Heart's Stone Springs and Purcellville offices.
She holds a Master of Science degree in nursing from Georgetown University in Washington, DC. She became interested in cardiology while doing her clinical rotations in nursing school. Today, her goal is to work alongside her patients to make informed decisions and maximize their cardiovascular health.
In her free time, Haena enjoys spending movie and board game nights with her husband, children and two Pomeranians.
Credentials
Education
Master of Science in Nursing, Family Nurse Practitioner | Georgetown University
Bachelor of Science, Nursing | University of Maryland
Bachelor of Science, Biology and Psychology | University of Maryland
Certifications
Advanced Cardiac Life Support (ACLS) Certified
Basic Life Support (BLS) Certified
Locations
Stone Springs (Dulles) Office
24430 Stone Springs Blvd
Suite 425
Dulles, VA 20166
P: 703-722-5860
F: 703-722-5861
Loudoun Office
44035 Riverside Parkway
Suite 400
Leesburg, VA 20176
P: 703-858-5421
F: 703-858-9573
Purcellville Office
205 East Hirst Road
Suite 101
Purcellville, VA 20132
P: 703-723-8664
F: 703-858-9573