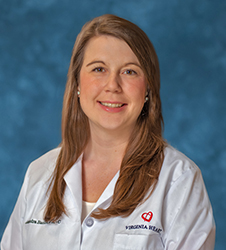 Alexandra Bache
Alexandra Bache, PA-C, MPAS, is a board certified physician assistant in Virginia Heart's Loudoun office and at Loudoun Hospital.
She earned a master's degree in Physician Assistant Studies from Chatham University in Pittsburgh, PA. Alexandra became especially interested in cardiology after completing her rotation in the challenging and rewarding specialty during PA school. Today, her goal is to help her patients maintain a healthy lifestyle to reduce their risk of cardiovascular disease.
In her free time, Alexandra enjoys playing tennis, swimming and traveling with her husband.
"What I do every day is a privilege. Taking care of the sick is a great honor."
Credentials
Education
Master of Science, Physician Assistant Studies | Chatham University
Bachelor of Arts, Biology | College of Charleston
Bachelor of Science, Psychology | College of Charleston
Certifications
Board Certified, Physician Assistant
Advanced Cardiac Life Support (ACLS) Certified
Affiliations & Awards
Professional Association
American Academy of Physician Assistants
American College of Cardiology
Hospital Affiliations
Inova Alexandria Hospital
Inova Fair Oaks Hospital
Inova Fairfax Hospital
Inova Loudoun Hospital
Reston Hospital Center
Stone Springs Hospital Center